Costa Blanca Hotels
As you plan your next holiday, you'll likely spend a great deal of time researching your destination for things to do and sites to see. The most memorable trips usually require the most planning, so you'll probably see your ample preparation pay off as you have great fun and make great memories. And while nearly all of your holiday fun will take place outside the confines of your hotel, it's important not to overlook your accommodation.
Whether you're traveling on a shoe-string budget or you're throwing your finances to the wind, you should make sure that you're getting the best for your money. Costa Blanca hotels come in every price range, and even if you can't afford to lay down your bags at a 5-star resort, you can still find a place deserving of your stay.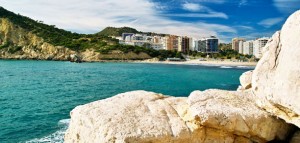 You're likely to fly into Alicante when you begin your holiday in Costa Blanca, and though it's not a beach resort town, you can find a number of accommodations that give you quick access to the bustling city life and shopping centers that Alicante is famous for. Down the coast a bit is Benidorm, the most popular beach district in the region. It is also the high-rise hotel capital of the region, with large and towering resorts lined up and down the crowded beaches. If you're looking to stay away from the crowd, you might consider Denia, which retains a fascinating old town charm and boasts some of the classiest hotels in Costa Blanca.
If you're looking for recommendations on specific Costa Blanca hotels, there are almost too many great ones to name. If you wish to spend a night near the airport, there's a luxurious accommodation in Alicante called Hospes Amerigo with high class and modern room décor. In bustling Benidorm, you might try Villa Venecia Hotel, a boutique property in the middle of the Old Town district that oozes with classic charm. For a quieter stay, consider the Hotel El Raset in Denia. This deluxe hotel is situated right on the harbor, and most rooms enjoy fantastic views over the water.
Wherever you decide to make your base during your Costa Blanca holiday, you'll be sure to find worthy accommodations everywhere you turn. However, the best value accommodation option if you are holidaying with a family or large group might be to take a Costa Blanca villa rental. There are a large number of holiday villas on the Costa Blanca that can be rented through online rental agencies.